Telephone: (061) 396 683 Email: stnicholasadare@gmail.com
Ethos Statement
St. Nicholas' National School is a co-educational primary school under the management of the Church of Ireland and Lady Geraldine Dunraven as its patron.
The school seeks to provide a climate in which pupils experience a sense of caring and belonging.
Pupils are treated fairly and their spiritual, moral and religious development is encouraged, as is their intellectual, social, emotional and academic development.
All pupils are equally valued and respected, irrespective of gender, race, social background, family circumstances, religious beliefs, educational achievements, physical characteristics or intellectual functioning.
The work of the school is conducted in an atmosphere of tolerance and respect for religious differences.
As a Church of Ireland School, the traditions and teachings of that church shall inform the position taken in regard to moral issues which arise in the teaching of secular subjects. The school nurtures freedom of thought and a personal relationship with God.
Goals & Aims
* We aim to develop the child as a whole person, in mind, body and spirit.
* The child should be happy at school and therefore we strive for a happy environment within the school. Every child will be encouraged to do his/her best, nurtured by praise for achievement and effort rather than negativity.
* Every child will be encouraged and helped to reach his/her potential. We recognise the abilities and strengths in individual children.
* High academic standards are expected at all class levels throughout the school, bearing in mind the gifts, ability and interests of the pupils.
* There will be healthy interaction and liaison among parents, teachers, pupils and the wider community.
* Every child will be encouraged to develop as a sociable, balanced and mannerly person capable of interaction with others.
* At all times staff should present themselves neatly and strive for high standards of neatness, tidiness and punctuality in pupils during all school activities.
* Children will be encouraged to exercise and take part in sport and leisure activities. They should learn to have a healthy respect for their bodies and avoid toxins, drugs and excesses.
* Children are taught to live with disappointment as well as success in all aspects of life.
* The school aims to build an awareness and relationship with God and an understanding of the Christian gospel.
* A growth of conscience within the child will be developed at this level but avoiding unhealthy prolonged feelings of guilt.
* The school aims to encourage an awareness of the environment, locally and in the global sense and to develop a sense of responsibility within all of us to learn more about and to care for our world and its inhabitants.
History
The school was housed in an Augustinian Abbey dating back to 1315. This comprised of two classrooms and a staged area. The school was establised by the Earl of Dunraven in 1814 and became a national school in 1862. The school has been in operation since then.
The pupils and staff moved into the new school building at the rear of this building on September 1st 2008. This buiding is now used for P.E. and Drama. The site is steeped in History and it is an ideal site for a primary school.
Not only do the students have access to a church, cloisters, river walk and beautiful grounds but they also have a modern building equipped with resources necessary to teach a modern curriculum.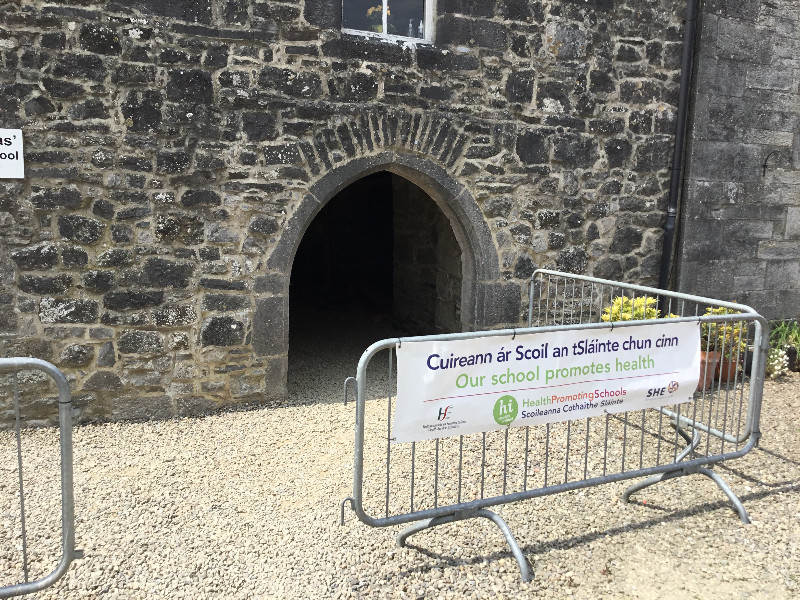 Staff
| | |
| --- | --- |
| Principal Teacher: | Sarah Ryan |
| Deputy Principal: | Chloe O' Kelly (1st - 3rd) |
| Teachers: | Eleanor Walker (SET) |
| | Karen McNamara (Infants) |
| | Sarah Ryan (4th - 6th) |
| | |
| Special Needs Assistants: | Ann Hanley |
| | Annemarie Yelverton |
| | Alice Ruppin-Gilltenane |
| Secretary | Jayne Benson |
| Chairperson of the BOM | James Clarke |
General Rules
Timetable and Supervision of Pupils
The school is open to receive pupils at 08:50

Classes begin at 09:00

All pupils are expected to be in school by 09:00

Our school day begins with a short assembly at 09:00

Infant classes finish at 13:40 all other classes finish at 14:40 Children should be collected promptly at these times

No responsibility is accepted for pupils on the premises prior to opening time and after closing time

For safety reasons, parents/guardians are asked to wait outside the school building until classes have been dismissed, before entering the building to talk to a teacher

In the case of children travelling to school by bus, the school cannot accept responsibility for escorting them from the bus to the school or from the school to the bus. Parents who feel their children need to be escorted on these occasions should make suitable arrangements

A teacher and SNAs supervise pupils during break time and lunch time. This operates on a rota basis and the list is on display in each classroom and in the staff room

On wet days pupils will remain in their own classroom and will be supervised by their class teacher

At break times pupils must play within designated play areas. These are made very clear at the beginning of each school year

Pupils may not leave school grounds during the school day without written permission

Parents must inform the school in writing or by e-mail when their child/children are absent from school. Reason for absence must be included in the written note. This is a requirement of the National Education Welfare Board/Tusla.

Under the Education Welfare Act, the school is obliged to notify the National Welfare Board/Tusla in respect of pupils' absence aggregating 20 or more days, suspension for 6 days or more or intention to expel.